Welcome to Lansh Engineering Pvt. Ltd.
We are an ISO 9001:2015 certified, IBR registered and ASME (American Society of Mechanical Engineers) accredited company. Incorporated in 1996, we have our registered head office in Mumbai and manufacturing unit is situated at Rabale, Navi Mumbai.
We are engaged in the business designing, supplying, fabrication and manufacturing of equipments & vessels for all process industries such as IBR approved boiler pressure parts and components, pressure vessels, steam coils, chimneys, storage tanks and vessels, heat recovery units etc and erection and commissioning activities for mechanical process plants equipment such heat exchangers, pressure vessels, utility package equipments, fired equipment like boilers and furnaces, ESP, chimney etc. and also provide operation and maintenance services for boilers, power plants and its utilities.
We also undertakes shut downs and annual maintenance of power and industrial boilers, inspection and consultancy of
IBR / Non-IBR installations.
Why Choose Us


Area
20,000 sq. feet of workspace, 30m long, 12m wide, and 10m high clear height with 30 MT EOT. Two fully covered shed with ample natural and supporting lighting system, ventilation and ambience and separate space for Exotic Metals.



 Office and Administration
2000 sq. feet of fully covered area and equipped with Design Engineering, Procurement, Construction, accounts, administration and IT department.
Stores: 1350 sq. feet of fully covered area with separate storage facility for ferrous and non- Ferrous materials.



 Facility
Transport Facility: Lorry touch workshop, good wide roads outside the premises for easy Movement of trailers, Lorries, containers etc.
Lifting Equipments: 40 MT & 10 MT capacity SWL EOT crane for easy handling, lifting and shifting of the Equipment and processing of the components.
Company Overview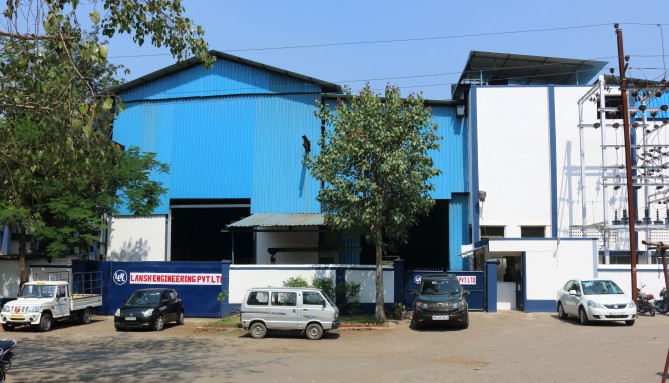 Lansh Engineering Pvt. Ltd. incorporated in 1996, is an ISO 9001:2015 certified company employing over 1200 employees is engaged in supply & fabrication.
Clients / Partners